YarnArt Rosegarden content: 100% Cotton.
Weight/Length: 250 grams – 1000 metres.
Needle Size: 2.5 mm.
Gauge: 28 stitches x 40 rows to 10 cm.
Machine washable.
Description
YarnArt's brand new line Rosegarden will be indispensable for your summer knitting with its 100% cotton content and harmonious color transitions.
Thanks to its soft texture, Rosegarden series, which you can choose for all your clothing and accessory knitting such as blouses, dresses, shawls, skirts, can also be used safely in baby products due to its natural content.
Presented in the form of 1000 meters of cake thread, this yarn can be easily knitted with both needle and crochet, thanks to its smooth structure.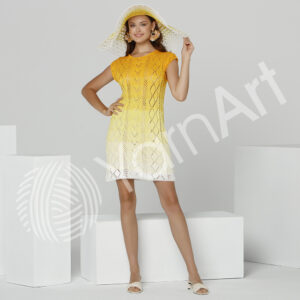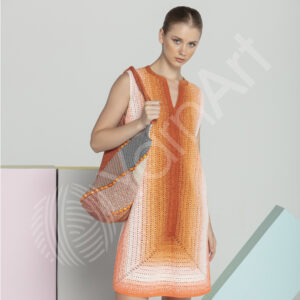 Related products
4.95

€

1. White

3. Ecru

7. Light beige

8. Pearl light grey

9. Beige

16. Blue

19. Jeans

20. Red

21. Black

24. Brown

28. Deep orange

30. Rose

31. Mustard

32. Reseda green

33. Light pink

34. Light jeans

35. Pistachio
Popular products
22 pale rust

07 red

36 almond

25 steel blue

27 rainforest dew

08 heather

37 sweet apricot

01 off white

28 pacific blue

11 forest green

38 chocolate

23 bordeaux

13 - denim blue

29 tangerine

14 light greygreen

24 rust

12 powder pink

30 yellow

15 l. sea green

16 black

31 hot pink

17 light levander

02 light grey

26 cobalt blue

18 cerise

03 grey

32 moss green

19 curry

04 light beige

33 pistachio ice cream

20 pink sand

05 beige

34 sweed orchid

21 sage green

06 coral

35 pearl grey

14 red

29 vanilla

47 pistachio ice cream

04 old pink

40 pink pearl

15 dark brown

30 curry

48 parrot green

05 heather

42 almond

16 dark purple

31 mauve

50 caramel

06 blue mist

43 blue wind

17 dark rose

32 raspberry

51 toffee

07 light sky blue

44 moonshine

18 apple green

33 rust

52 lemonade

08 light jeans blue

19 dark green

28 navy blue

34 sage green

53 light peach

09 light lavender

20 light beige

49 electric orange

35 chocolate

55 misty lilac

10 grey

21 cobalt blue

46 cherry sorbet

36 bordeaux

56 marzipan

11 lavender

22 ash grey

54 bright sand

01 off white

37 north sea

12 beige

24 petrol

45 soft mint

02 black

38 chalk

13 pink

27 jeans blue

41 powder

03 light pink

39 storm blue

5575 - navy blue

7323 - sea fog

7139 mineral blue

2020 - light nougat

6205 - light blue

7815 - forest mix

7895 dark green

2915 - orange

7238 - green grass

9024 - old rose

9030 pistachio ice cream

2916 - bright lime

7240 - petrol

2917 - turquoise

9035 lavender frost

2918 - dark turquois

5565 - light maroon

8903 - black

302 - camel

101 white

2923 - goldenrod

618 - nougat

9020 - light pearl g

3620 - red

9139 mineral blue

3112 - dusty pink

6309 - medium petrol

9021 - fog

4010 - light lavender

3650 - maroon

4434 - amethyst

9026 - blush

2925 rust

100 - white off

3720 - medium pink

607 - light brown

9022 - coral

9029 wheat fiel

501 - light grey

3800 - mauve

6360 - blue

9028 - lemon pie

3770 raspberry rose

506 - dark grey

4400 - dark purple

7233 - olive

3900 tomato

517 - medium grey

15 green

16 pistachio

02 white

26 lemonade

17 yellow

22 white fog

03 light grey

27 parrot green

20 peach pink

23 misty forest

04 medium grey

28 magenta

21 pink

24 strawberry pink

05 dark grey

30 desert rose

13 - denim blue

06 black

31 sand

18 red

07 beige

32 dark green

08 brown

09 amethyst

10 indigo

29 tangerine

11 petrol

14 ice blue

01 off white

25 caramel

2.50

€

342

161

529

107

98

778

360

185

530

87

141

788

374

310

532

149

428

377

2

597

183

378

6

599

262

55

416

16

619

268

56

437

27

637

289

60

471

28

646

287

62

485

31

741

321

19

490

34

766

336

146

509

41

767

10 lemongrass

01 off white

25 sweet orchid

11 rust

02 black

12 powder pink

14 red

13 old pink

03 pearl grey

15 navy blue

04 light grey

16 jeans blue

05 grey

18 goldenrod

23 caramel

06 dark grey

19 forest green

24 sage green

07 light beige

20 blush

26 ice blue

08 fog

21 brick red

27 light peach

09 deep ocean

22 chestnut

28 dandeleon

32 - blush

02 - wheat

43 parrot green

13 - orange

46 dark olive

18 - l. grey green

07 - ruby red

08 light pink

47 oregano

24 - pink

09 - navy blue

36 light blue

48 antique green

27 - sea green

10 - fog

37 bluebird

49 acorn

26 beige

11 - peacock blue

21 sea blue

50 peach pink

01 off white

30 sage green

12 - moss green

25 raspberry

51 desert rose

04 medium grey

38 elctric orange

15 purple haze

31 black

52 rose petal

06 black

39 magenta

17 - denim blue

34 pink marble

14 - heather

53 strawberry ice cream

03 pearl grey

40 lemonade

22 - yellow

35 clay

16 - blue

54 sweet apricot

19 forest green

41 sweet orchid

33 - pink sand

44 crimson red

29 - old pink

05 brown

42 pistachio ice cream

45 north sea

0100 off white

7120 - l.grey green

8783 forget-me-not

0206 light beige

7238 - olive

8908 aqua blue

4434 purple

8906 - forest

8914 red clayf white

2920 orange

8912 - blush

8916 bordeaux

0506 dark grey

8915 - chalk

0612 light brown

0300 - beige

8905 deep ocean

0500 - light grey

8907 fog

0501 - grey

8913 light blue

0517 - medium grey

2923 - goldenrod

3608 - deep red

8903 - black

6314 - denim blue

9020 pearl grey

0619 beige

5610 brown

0701 petrol

5820 ruby red

0705 green

6235 grey blue

0707 rust

7810 moss green

1101 white

8112 ice blue

3145 powder pink

8465 medium grey

2923 - goldenrod

3609 red

9010 light grey

8903 - black

9022 - blush

4088 heather

9015 grey

0100 off white

4305 dark blue

9016 navy blue

0206 light beige

4434 purple

9018 sea green

0519 dark grey

5310 light brow

2.15

€

29 pink panther

80 sage green

09 nutmeg

91

30 vanilla yellow

13 navy blue

81 clay

10 baby pink

92 sweet orchid

36 denim

32 turquoise

82 silver fox

12 red

41 bordeaux

01 lavender

83 pearl

15 royal blue

49 dark orange

02 light blue

84 sunflower

17 black

51 light orange

03 mint

85

18 white

53 apple green

04 lilac

86

19 light grey

60 ice blue

05 powder pink

87

20 light mint

61 light taupe

06 desert rose

88

23 beige

76 light denim

07 light yellow

89

24 taupe

79 clove

08 off white

90

3.75

€

57 greige

19 grey

56 tangerine

05 light pink

27 old pink

20 dark grey

14 purple

01 white

31 vibrant green

21 black

02 off white

33 electric blue

22 light grey

13 navy blue

36 orange

30 blue

48 blush

04 yellow

44 powder

32 turquoise

50 sage green

08 cerise

45 lemon

34 heather

23 light beige

10 light turquoise

46 rose

39 purple orchid

37 light lavender

11 ice blue

47 north sea

43 light sea green

38 olive

16 red

54 powder pink

49 desert rose

40 amethyst

17 beige

55 peanut

06 sea green

18 dusty pink

07 light sea green

19 peach

08 lavender

20 dark ivy

09 brick red

21 hot chocolate

10 heather

04 grey

11 hazelnut

05 black

22 almond

12 jeans blue

01 white

23 navy blue

13 light jeans blue

03 light beige

25 white fog

14 light lilac

24 sand

15 light mint

02 pearl grey

17 curry

55

185

56

187

62

188

19

275

33

310

40

350

81

382

119

522

146

548

161

52

167

3.75

€

36 amethyst

01 off white

38 - blue fog

19 - l. grey blue

09 dark brown

34 heather

04 medium grey

37 - misty forest

20 - dark blue

26 pistachio

02 black

06 - brown

22 - medium purple

31 forest green

03 - dark grey

25 - pink

23 - grey blue

39 ice blue

05 - light grey

27 - navy blue

28 - north sea

43 sea blue

08 - light beige

32 dark rose

29 - turquoise

44 royal purple

11 - red

35 dark heather

30 - mustard

48 bordeaux

24 - light yellow

13 - denim blue

41 olive

42 - cedar

49 chocolate

40 - powder pink

15 - l.greyish green

50 light beige

46 - desert rose

52 green leaf

07 - light brown

16 - light pink

51 double latte

47 - sage green

45 - blush

18 - green

53 moss green

2.50

€

01

05

21

26

28

29

36

55

58

60

62

98

118

141

152

161

173

180

182

200

203

207

215

216

240

386

440

450

462

522

585

590

645

650

680

758