Malabrigo Sock Weight: Light Fingering.
Yarn Texture: 3 ply.
Yardage/Meters: 440 yards (402 meters).
Skein Weight: 100 grams (3.53 ounces).
Gauge: 32.0 sts = 4 inches.
Needle Size: US 1 – 3 or 2.25 – 3.25mm.
Hook Size: US B-1 to E-4 or 2.25-3.5 mm.
Content: 100% Superwash Merino Wool.
Care: Machine washable, gente cycle, cold water, do not tumble, dry flat.
Description
Malabrigo Sock – a soft, smoothly-plied, lightweight sock yarn in a range of semi-solid and watercolor multi colorways. Spun from our luxurious merino and treated to make it machine washable for easy care. Don't be fooled by the name- while it's certainly a treat for the feet, this delightful yarn is also a particular favorite for shawls and scarves!
Great for: Lace, shawls, scarves, garments, baby and child items, gloves, and of course socks!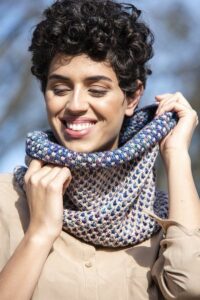 Be sure to get enough yarn to complete your project since each bag is a different dye lot, and skeins may vary from bag to bag. Skeins may vary one from the other even within the same bag. To ensure random color distribution, work from two balls of yarn at once, alternating a few rows from each ball.
When we dye our yarns, the same formula is used each time but every batch of yarn is assigned a different dye lot number. The differences from one dye lot to another can be very subtle, or extremely noticeable, specially on variegated yarns.
When we assign a dye lot number the main use is to identify which skeins can be labeled and packed together. After our quality control team checks the skeins, they go to the labeling section and then are put in bags of five or ten (depending on the yarn).
Once the bags get to the yarn stores, most skeins go to different shelves where they can get mixed. The dye lot code is really helpful when you try to find skeins that match.
Unfortunately, we don't have a record of which yarn store receives a specific dye lot and it's impossible for us to find out where you can find the same dye lot skeins.
The colors shown on photos are illustrated as reference, as mentioned above, they can differ on more or less of one tone, due to the hand-dyed process.
More about yarn: https://malabrigoyarn.com/