Click on the photo to enlarge it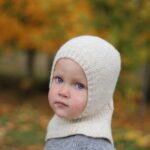 Description
Seamless merino wool / alpaca wool / viscose balaclava for baby, toddler, children.
Hand knit Balaclava – soft, warm, very comfortable for child and functional in use. Your child will be cozy and safely dressed in this carefully designed seamless neck warmer hat. Your child can put on or take off easy, all by themselves!
Sizes:
1. 40-42 cm – 3-6 months.
2. 43-45 cm – 6-12 months.
3. 46-50 cm – 1-3 years.
4. 50-54 cm – 3-5 years.
6. 54-56 cm – 5 – … years.
If you have any doubt about sizing please get in touch with me.
18 different colors available for your choose, so you will definitely find you like most:
1. Off white.
2. Marzipan.
3. Sand.
4. Cookie dough.
5. Grizzly bear.
6. Pebbles.
7. Cobblestone.
8. Peppercorn.
9. Raven.
10. Denim jeans.
11. Aquamarine.
12. Strawberry cream.
13. Lemon pie.
14. Cherry sorbet.
15. Purple rain.
16. Guacamole.
17. Spinach pie.
18. Carrot cake.
Yarn content: 50% Wool, 25% Alpaca, 25% Viscose.
It is a super soft tweed yarn, made from a combination of merino wool, superfine alpaca and viscose. The yarn is constructed by carding these fibers together with small felted "tweed buttons" that add speckles of colour to define the look of this quality.
Rustic and elegant, and breathes good.
Care:
Hand knitted baby clothes should be gently hand washed in lukewarm water, after washing put on a towel and press gently.
Please keep in mind that colors will vary slightly monitor to monitor.