KnitPro Karbonz double pointed needles length: 20 cm
5 needles per set.
Description
Karbonz Needles combine unparalleled strength with beauty for an elegant appearance. Karbonz Needles are made of carbon fiber, one of the strongest materials available today. Crafted to a smooth finish, the brass coated needle tips are finely honed and enable smooth knitting, easy pick up and excellent stitch definition.
Karbonz needles are lightweight and very strong. The smooth finish ensures no dragging and the finely crafted tips are ideal for all types of yarn and projects.
In the Karbonz needles you will find:
hight tensile strength;

low weight;

lot of flexibility;

warm feel;

brass tips with a perfect point;

and a surface that helps the stitches move smoothly on the needle.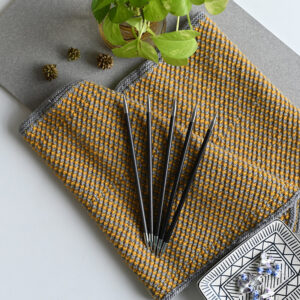 Interchangeable karbonz needles: https://dewknit.com/needles/knitpro-karbonz-interchangeable-needles/