Bamboo interchangeable circular needles available sizes: 3,00 mm – 10,00 mm.
Needle tips when joined with the cables provide needles of any length of circular knitting needles.
Description
Japanese bamboo, known for its strength and smooth finish, is the material of choice for our complete line of bamboo needles and crochet tools. Light weight and affordable, the bamboo line promises a Lightweight, yet exceptionally strong and durable. These circular knitting needles come with 24Karat gold plated connectors, perfectly complements the ivory coloured needles.
A must-have needle for all knitting-lovers!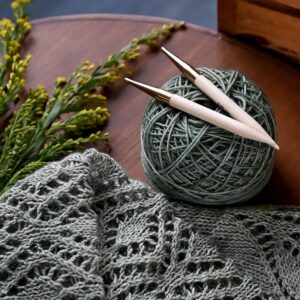 Related products
20.25

€

1.50

€

– 2.40

€
Popular products
10 grey

30 curry

48 parrot green

11 lavender

31 mauve

50 caramel

12 beige

32 raspberry

51 toffee

13 pink

33 rust

52 lemonade

14 red

34 sage green

53 light peach

15 dark brown

35 chocolate

55 misty lilac

16 dark purple

36 bordeaux

56 marzipan

01 off white

17 dark rose

37 north sea

02 black

18 apple green

38 chalk

03 light pink

19 dark green

39 storm blue

28 navy blue

04 old pink

20 light beige

40 pink pearl

49 electric orange

05 heather

21 cobalt blue

42 almond

46 cherry sorbet

06 blue mist

22 ash grey

43 blue wind

54 bright sand

07 light sky blue

24 petrol

44 moonshine

45 soft mint

08 light jeans blue

27 jeans blue

41 powder

09 light lavender

29 vanilla

47 pistachio ice cream

03 grey

04 light beige

23 bordeaux

05 beige

24 rust

06 coral

07 red

08 heather

11 forest green

14 light greygreen

15 l. sea green

17 light levander

18 cerise

27 rainforest dew

01 off white

19 curry

28 pacific blue

13 - denim blue

20 pink sand

29 tangerine

12 powder pink

21 sage green

30 yellow

16 black

22 pale rust

31 hot pink

02 light grey

25 steel blue

26 cobalt blue

2.50

€

107

56

98

437

778

87

60

141

471

788

62

149

485

428

19

183

490

146

262

509

161

268

529

185

289

530

310

287

532

2

321

597

6

336

599

16

342

619

27

360

637

28

374

646

31

377

741

34

378

766

55

41

416

767

3.65

€

– 3.85

€

2916 - bright lime

9022 - coral

2918 - dark turquois

9028 - lemon pie

5565 - light maroon

2923 - goldenrod

618 - nougat

3112 - dusty pink

6309 - medium petrol

3650 - maroon

4434 - amethyst

3720 - medium pink

607 - light brown

3800 - mauve

6360 - blue

4400 - dark purple

7233 - olive

5575 - navy blue

7323 - sea fog

6205 - light blue

7815 - forest mix

100 - white off

7238 - green grass

9024 - old rose

501 - light grey

7240 - petrol

2917 - turquoise

506 - dark grey

8903 - black

302 - camel

517 - medium grey

9020 - light pearl g

3620 - red

2020 - light nougat

9021 - fog

4010 - light lavender

2915 - orange

9026 - blush

2925 rust

2.60

€

– 2.85

€

13 - denim blue

29 tangerine

01 off white

18 red

25 caramel

02 white

26 lemonade

03 light grey

27 parrot green

04 medium grey

28 magenta

05 dark grey

06 black

14 ice blue

07 beige

16 pistachio

08 brown

22 white fog

09 amethyst

23 misty forest

10 indigo

24 strawberry pink

11 petrol

15 green

17 yellow

20 peach pink

21 pink

5.30

€

17 - denim blue

24 - pink

34 pink marble

22 - yellow

27 - sea green

35 clay

33 - pink sand

26 beige

44 crimson red

01 off white

30 sage green

45 north sea

04 medium grey

13 - orange

38 elctric orange

46 dark olive

06 black

39 magenta

47 oregano

03 pearl grey

40 lemonade

48 antique green

19 forest green

41 sweet orchid

05 brown

42 pistachio ice cream

02 - wheat

43 parrot green

07 - ruby red

08 light pink

09 - navy blue

14 - heather

36 light blue

10 - fog

16 - blue

37 bluebird

11 - peacock blue

29 - old pink

21 sea blue

12 - moss green

32 - blush

25 raspberry

15 purple haze

18 - l. grey green

31 black

09 deep ocean

10 lemongrass

11 rust

23 caramel

12 powder pink

24 sage green

13 old pink

15 navy blue

16 jeans blue

01 off white

18 goldenrod

02 black

19 forest green

14 red

20 blush

03 pearl grey

21 brick red

04 light grey

22 chestnut

05 grey

06 dark grey

07 light beige

08 fog

2.15

€

09 nutmeg

53 apple green

91

10 baby pink

60 ice blue

92 sweet orchid

12 red

61 light taupe

15 royal blue

76 light denim

17 black

79 clove

18 white

80 sage green

13 navy blue

19 light grey

81 clay

32 turquoise

20 light mint

82 silver fox

01 lavender

23 beige

83 pearl

02 light blue

24 taupe

84 sunflower

03 mint

29 pink panther

85

04 lilac

30 vanilla yellow

86

05 powder pink

36 denim

87

06 desert rose

41 bordeaux

88

07 light yellow

49 dark orange

89

08 off white

51 light orange

90

2.50

€

– 2.65

€

6314 - denim blue

0612 light brown

7120 - l.grey green

8905 deep ocean

7238 - olive

8907 fog

8906 - forest

8913 light blue

2923 - goldenrod

8912 - blush

8903 - black

8915 - chalk

0100 off white

0206 light beige

4434 purple

2920 orange

0506 dark grey

0300 - beige

0500 - light grey

8783 forget-me-not

0501 - grey

8908 aqua blue

0517 - medium grey

8914 red clayf white

3608 - deep red

8916 bordeaux

30 blue

40 amethyst

32 turquoise

57 greige

05 light pink

34 heather

27 old pink

01 white

39 purple orchid

31 vibrant green

02 off white

43 light sea green

33 electric blue

13 navy blue

49 desert rose

36 orange

04 yellow

44 powder

08 cerise

45 lemon

10 light turquoise

46 rose

11 ice blue

47 north sea

16 red

54 powder pink

17 beige

48 blush

55 peanut

19 grey

50 sage green

56 tangerine

20 dark grey

23 light beige

14 purple

21 black

37 light lavender

22 light grey

38 olive

3.75

€

01 off white

29 - turquoise

38 - blue fog

44 royal purple

04 medium grey

30 - mustard

37 - misty forest

48 bordeaux

02 black

42 - cedar

06 - brown

49 chocolate

03 - dark grey

46 - desert rose

25 - pink

52 green leaf

05 - light grey

47 - sage green

27 - navy blue

08 - light beige

36 amethyst

32 dark rose

11 - red

34 heather

35 dark heather

13 - denim blue

41 olive

15 - l.greyish green

50 light beige

16 - light pink

51 double latte

18 - green

53 moss green

19 - l. grey blue

09 dark brown

20 - dark blue

24 - light yellow

26 pistachio

22 - medium purple

40 - powder pink

31 forest green

23 - grey blue

07 - light brown

39 ice blue

28 - north sea

45 - blush

43 sea blue

0.90

€

110

114

108

101

109

102

111

103

112

104

113

105

115

106

116

107

117

118

119

52

310

55

350

56

382

62

522

19

548

33

40

81

119

146

161

167

185

187

188

275

1.55

€

17 - white

18 - off white

19 - red

21 - beige

30. turquoise

28 - orange

16 black

31 - apple green

09 - navy blue

50 mint

01 - desert rose

56 powder pink

04 - sage green

57 mauve

05 lavender

58 - amethyst

06 denim blue

59 red clay

07 grey

60 moss green

10 - yellow

63 sea green

11 - strong yellow

69 blush

12 peach

15 - plum

30 pastel pink

36 amethyst

46 medium grey

53 light grey

85 curry

89 clay

01 off white

02 black

05 petrol

06 olive

07 orange

08 red

37 aquamarine

14 dark grey

100 dark petrol

15 dark blue

24 yellow

26 hot pink

2.50

€

01

05

21

26

28

29

36

55

58

60

62

98

118

141

152

161

173

180

182

200

203

207

215

216

240

386

440

450

462

522

585

590

645

650

680

758