Click on the photo to enlarge it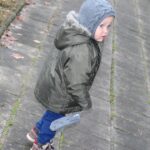 Description
Merino wool kid's balaclava, winter hat neck warmer, hooded scarf, merino wool mittens, knitted baby clothes.
This baby balaclava and mittens are hand knitted from 100% merino wool for the smallest babies and the moving toddler. Merino wool is a popular and recommended fabric – very soft and smooth, making it very suitable for children. 20 different colors available for your choose, so you will definitely find you like most.
Merino wool hand knit Balaclava – soft, warm, very comfortable for child and functional in use. Your child will be cozy and safely dressed in this carefully designed neck warmer hat. Your child can put on or take off easy, all by themselves!
Product details:
100% merino wool.
Seamless.
With pom pom.
Set includes balaclava hat and mittens.
Balaclava sizes:
1. 40-42 cm – 3-6 months.
2. 43-45 cm – 6-12 months.
3. 46-50 cm – 1-3 years.
4. 50-54 cm – 3-5 years.
5. 54-56 cm – 5 – … years.
Mittens:
0-6 Months (thumbless).
6-12 Months (thumbless).
1-2 Years (has a thumb).
2-3 Years (has a thumb).
3-5 Years (has a thumb).
5-8 Years (has a thumb).
If you have any doubt about sizing please get in touch with me.
Why merino wool?
100% merino wool – absorbs and evaporates moisture and allows the skin to breathe, maintain a constant body temperature. Merino wool breathes better than any other material to keep your baby warm in the cold and cool in the heat, making it perfect for all seasons and environments. A merino fiber can absorb and retain up to 30% of its own weight in moisture and still feel dry to the touch.
Merino wool keeps babies at optimal temperatures and protected from extremes, neither too hot nor cold, they become more relaxed, sleep longer and in turn, build up reserves. This is especially important for babies that are sick, born prematurely or at low weight.
Merino is soft and comfortable to wear without itchiness. By forming a natural micro-climate around your baby's body, it is naturally hypoallergenic and safe to use for babies with eczema, allergies and sensitive skin!
Care:
Hand knitted baby clothes should be gently hand washed in lukewarm water, after washing put on a towel and press gently.
Please keep in mind that colors will vary slightly monitor to monitor.