Click on the photo to enlarge it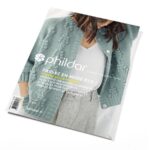 Description
Organic and beautiful…
12 eco-friendly models to switch to eco-knitting mode!
With its line of eco-responsible yarns PHIL ECOLAINE, PHIL ECOCOTON and PHIL ECOJEAN, Phildar innovates and commits itself. So that in addition to the pleasure of knitting and creating modern-inspired patterns, you can also help preserve the environment. 100% respectful, 100% fun, 100% fashion: the right mood to adopt, 100% winning for you, as for the planet. For you, for him, for the kids, 12 models to cultivate your natural fiber.
Ready to knit in green mode?
Think about the world and fashion differently, especially when you are a fan of "HANDMADE".
The patterns are in French.
You may find this French to English knitting terms dictionary very helpful:
http://chezplum.com/french-knitting-dictionnary/.
Please keep in mind that colors will vary slightly monitor to monitor.